The Stranger
Directed by Guy Fauchon. Starring Anthony Goncharov
Get ready to meet The Stranger – as Peninsula Productions presents a 'lost' classic by Queen of Crime Agatha Christie, lovingly revived by director/production designer Alex Browne and producer Janet Ellis.
England in the early 1930s: Enid Bradshaw (Natalie Peters, Sorry Wrong Number) is a beautiful young business woman on the brink of marriage to safe, reliable Richard Lane (Luca Herring). Then, by chance, she meets and falls for a charming stranger, Gerald (Harrison MacDonald, Other Desert Cities). Jilting Richard, she sets a course for danger – and a shocking, shattering conclusion.
Featuring Peninsula Productions newcomer Cassidy Hergott (as Enid's wise, loyal best friend Doris) and acclaimed actor/director Lori Tych (in a dual role), The Stranger is an evening of vintage suspense, Christie-style, that you won't want to miss!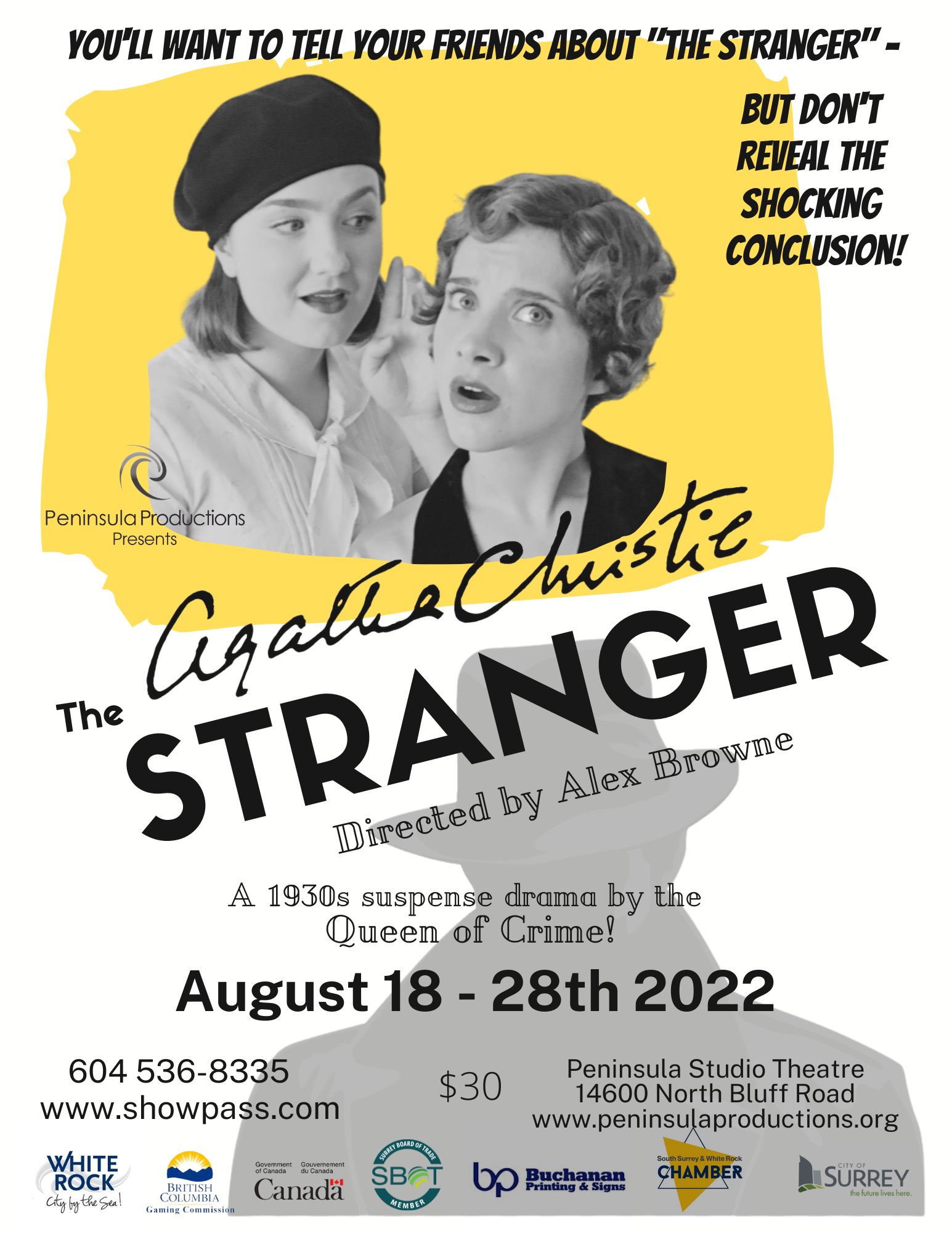 Alex Browne was born in London, England. He was educated at the Roan Grammar School, and, in Canada, at Centennial School and Simon Fraser University. A journalist by day, he lives a double life as a musician, actor, director, playwright and producer. A passionate historian and retrophile, he is leader of several ensembles specializing in music of the 1920s and 1930s, and is currently at work on a play and novel exploring the noir ethos of 1940s-1950s Vancouver. He has also composed for theatre, film and television and received two Community Theatre Coalition awards for sound design (The Great Gatsby, The Dawn Patrol) and a Theatre BC adjudicator's choice award for his original score for a stage adaptation of Joseph Moncure March's The Wild Party.
Natalie Peters – Enid Bradshaw
Natalie is a graduate from the Douglas College Theatre Program. There, she performed as Lucille "Switch Triptych" and Juliet "Good Night Desdemona, Good-Morning Juliet". She recently performed on Granville Island as Mary/Saint Mary "The Lactation of Saint Bernard". You may also recognize her from Peninsula Productions recent production of "Sorry Wrong Number"! Recently, she studied and trained Decrouxian technical theatrical mime at L'ecole Omnibus in Montreal. Outside of theatre and film, Natalie is passionate about writing, painting, and being in the great outdoors. She would like to thank Alex, the cast, Janet, Kat, Savannah and everyone directly involved in making this play come to life!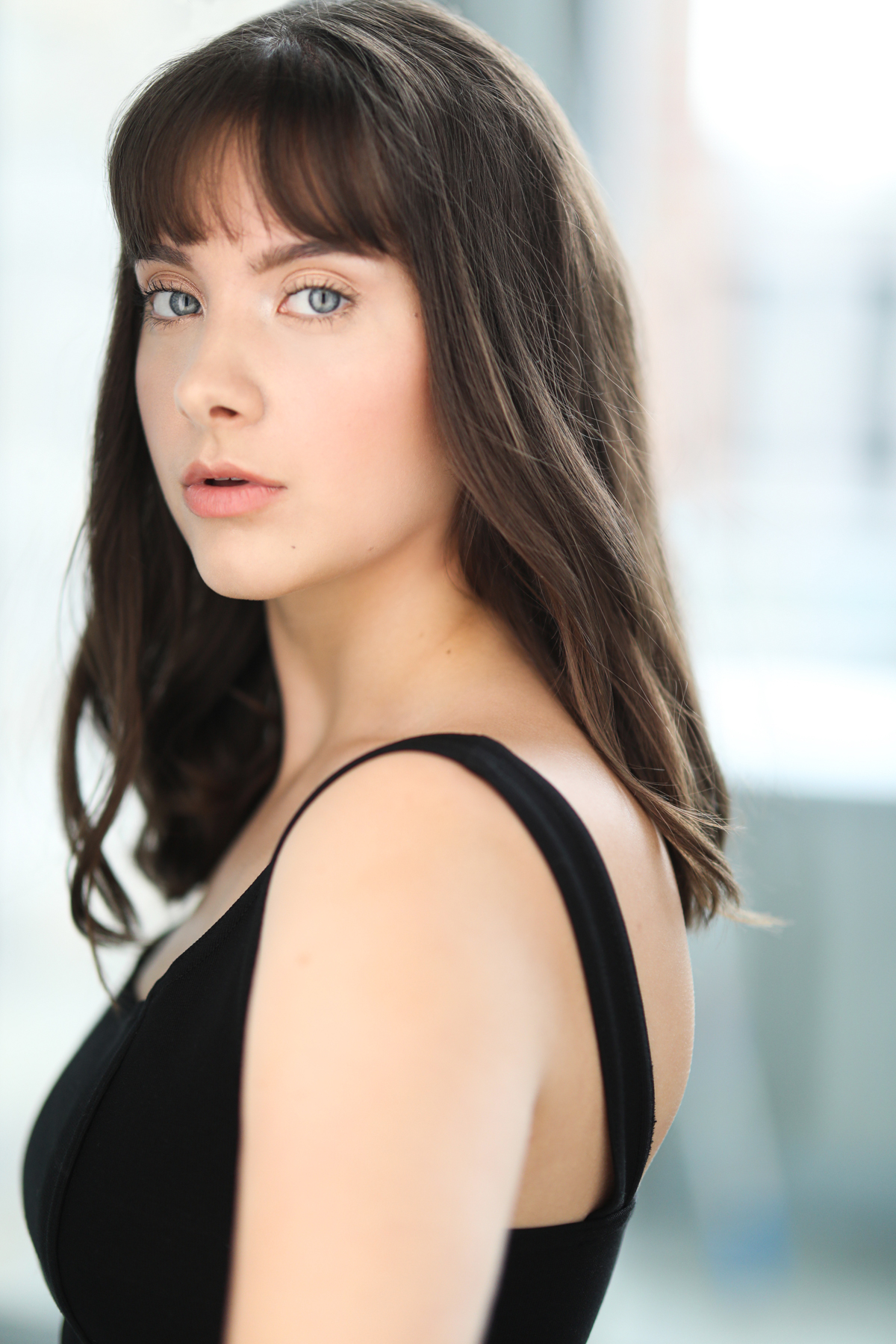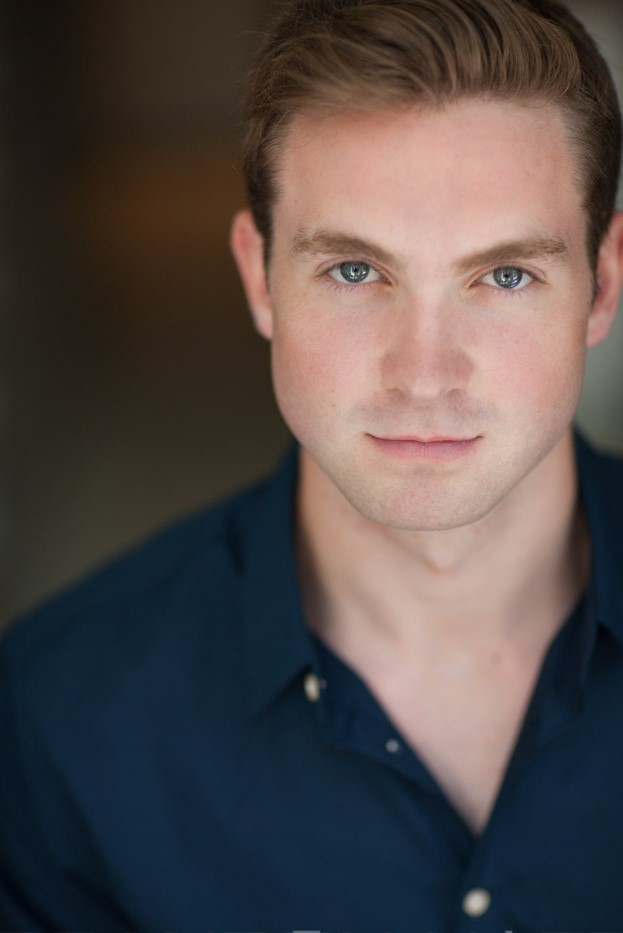 HARRISON MACDONALD – Gerald Strange
The Stranger marks Harrison's fifth show with Peninsula Productions. Past credits for Peninsula include: Mary's Wedding, East of Berlin, Suddenly Last Summer and Incident at Vichy. Other theatre credits include: Other Desert Cities and Woman in Black (White Rock Players), The Shape of Things (Heckin Good Theatre) and No Exit (Aenigma Theatre). Selected TV credits include: Billy the Kid, Riverdale, Charmed, Project Blue Book and DC's Legends of Tomorrow. He feels privileged to be working with such a talented cast and crew and thanks his director, Alex Browne, for the opportunity.
LUCA HERRING – Richard Lane
This is Luca's second collaboration with Peninsula Productions. He has previously worked with Stage 43 Productions in Coquitlam for One Flew the Cuckoo's Nest and was cast as Geoffrey, Duke of Brittany in The Lion of Winter and most recently as multiple characters in The 39 Steps. Luca has enjoyed portraying Richard Lane, both of whom have similar luck with relationships. Luca has enormously enjoyed working with such a talented director, cast and crew and hopes you very much enjoy the show.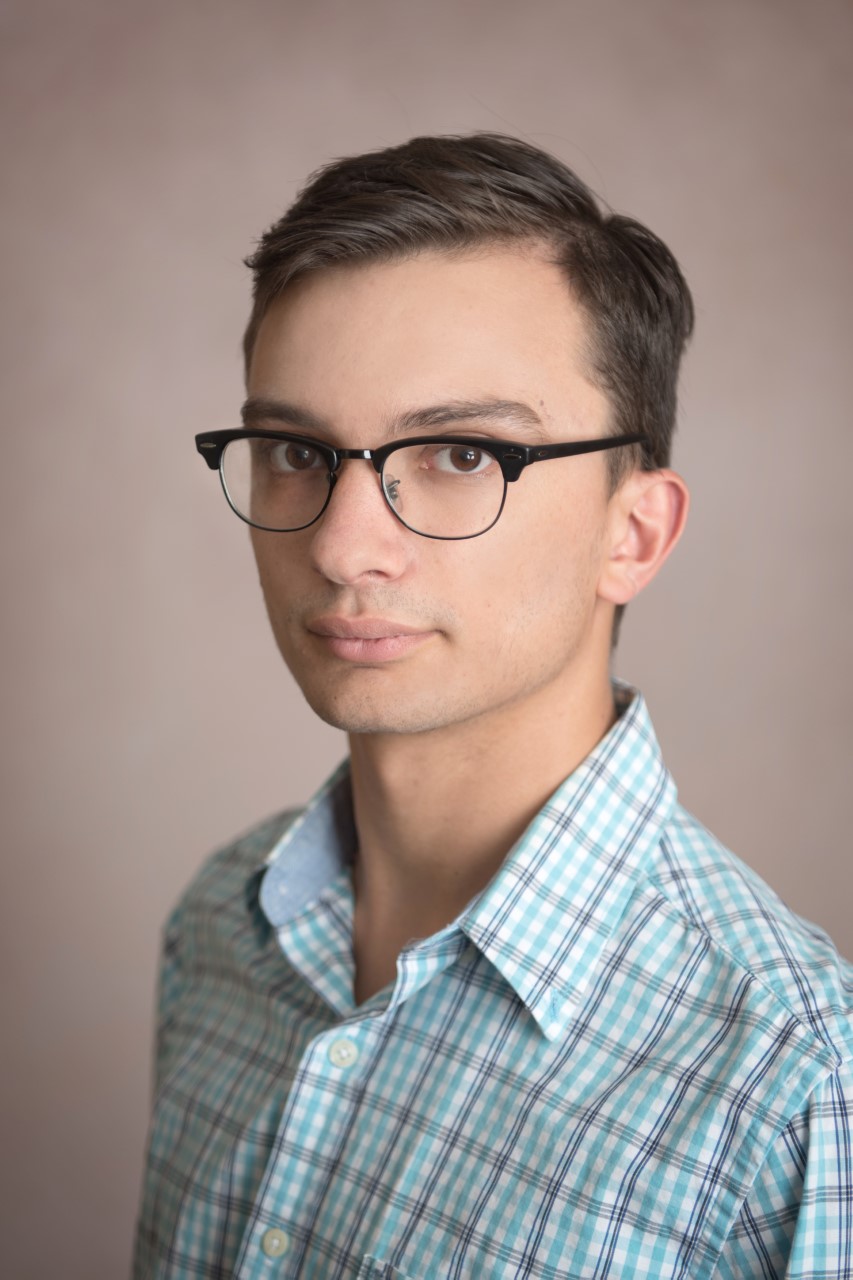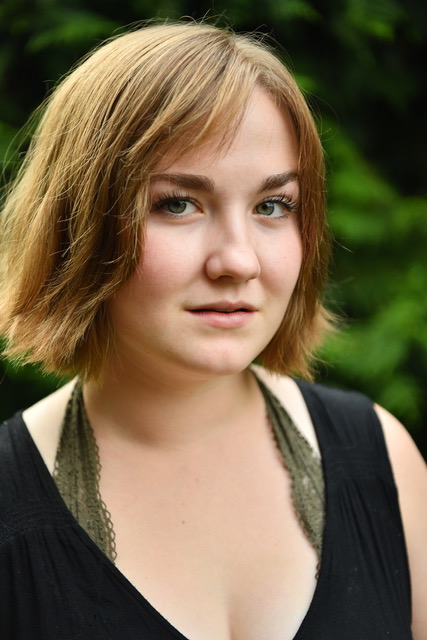 CASSIDY HERGOTT – Doris West
Cassidy is a theatre artist based in Vancouver, and will be graduating from Studio 58 in the Spring of 2023. She was born and raised in Kelowna, where she performed in a variety of shows such as Next to Normal (Natalie), The Little Mermaid (Andrina), and The Nether (Iris). Cassidy has recently found a passion for aerial arts and pole fitness, which she takes alongside other dance classes in her free time. This is her first show with Peninsula Productions and she couldn't be more excited!
LORI TYCH -Mrs. Huggins and Mrs. Birch
Lori has performed locally since 2008 with both the White Rock Players Club and Peninsula Productions.  Favourite shows have included Twentieth Century, The Lion in Winter, Don't Dress for Dinner, Dracula: The Bloody Truth, Other Desert Cities, Blithe Spirit, Death and the Maiden, Steel Magnolias, and (staged-readings) Medea, Frozen, Matt and Ben. Many thanks to Alex and Janet for inviting me back to the Peninsula Studio Theater to play with a marvelous cast within the crafty world of Agatha Christie.  Cheers!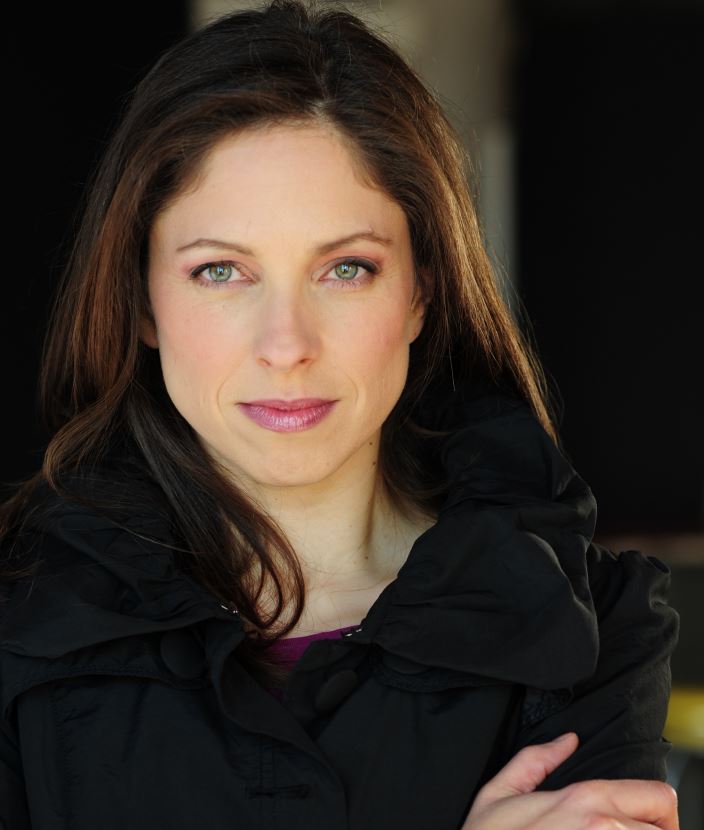 Peninsula Productions' 'The Stranger'
– an interview with the director
Alex Browne, well-known in the White Rock-South Surrey community as an actor, writer/director and musician – and a long-time reporter with The Peace Arch News – sat down recently for an interview about the new play he is directing for Peninsula Productions, Agatha Christie's The Stranger (Aug. 18 to 28 at the Peninsula Studio Theatre, 14600 North Bluff Rd. (Centennial Park), White Rock, tickets, information: 604-536-8335, www.showpass.com).
It seems as though you're having fun with The Stranger.
Great fun! Producer Janet Ellis and I are working with a very talented cast and behind-the-scenes crew, including wardrobe designer/photographer Kat Siemens, stage manager Hunter Lisle, production assistant Regan Holding, technical supervisor Grig Cook and technical consultant Logan Hallwas and photographer Rajiv Dhaliwal.
We're staging it with the audience in a horseshoe configuration – not quite theatre-in-the-round, but the audience will still feel very much like eavesdroppers on private conversations! We're also doing it as authentically as possible to evoke the early 1930s British atmosphere, which is something dear to my heart.
How are the actors faring with their characters?
Natalie Peters, who plays Enid, is a rising young actor I had the good fortune to work with as a fellow cast member of Peninsula's recent Sorry Wrong Number. She's doing a marvellous job capturing a complex character with a lot of different levels, while still making Enid very appealing and sympathetic.
Harrison MacDonald, as Gerald, has great instincts as an actor, which he's putting to good use to create a most powerful and compelling characterization.
Cassidy Hergott provides a wonderfully sweet, wise and witty presence in a key role as Enid's best friend, Doris.
Luca Herring, as jilted fiance Richard, embodies the soul of English rectitude and reserve but also has the ability to make you appreciate the real person suffering underneath the surface.
Last, but certainly not least, Lori Tych – well known for her work with the White Rock Players Club and recent direction of The Vagina Monologues for Peninsula Productions – is doing brilliant work, using her considerable expertise to create a dual role which adds a welcome touch of comedy to the piece.
Why did you choose to direct The Stranger?
It's a little-known play by Christie, for one thing. Everybody's seen The Mousetrap and And Then There Were None, for instance
But few have seen The Stranger, which Christie wrote in 1932, based on her 1924 story Philomel Cottage. That's partly because it was eclipsed by another version of the same story, Love From A Stranger in 1936, in which Christie's concept was reshaped for the stage by well-known West End actor Frank Vosper.
This play is Christie's original version, one of a series of her early plays that have recently been republished and made available to theatre companies by Christie's estate, after sitting gathering dust for decades. For fans of Christie, it's virtually the next best thing to a brand new play.
What is The Stranger about?
It's a suspense story, about Enid Bradshaw, a young business woman who craves excitement in her life. On the brink of getting married to her safe, reliable fiance Richard, she meets and elopes with an attractive stranger, Gerald, a man she knows virtually nothing about.
Does she come to regret it?
Without offering any spoilers, I'd say she finds herself in a situation that challenges her resources to the utmost! But on a deeper level, the theme is one that Christie returned to often: just how well can one ever know that person we choose to spend our life with?
Why do you think she revisited that theme so often?
I think that, on a personal level, she felt a deep sense of betrayal as a result of her marriage to her first husband Archie Christie. Only two years after she wrote Philomel Cottage, he announced that he was leaving her for his mistress.
Agatha had what nowadays we would call a melt-down – she drove her car to a secluded spot next to a chalk pit in Surrey, England and abandoned it. For 11 days no-one knew where she was. Her family was distraught; the police were scouring the country for her, fellow mystery-writer Dorothy L. Sayers organized search parties. No less a personage than Sir Arthur Conan Doyle engaged a spiritualist medium to see if this would produce any clues to her whereabouts.
Where was she?
She was found staying at a small hotel in Harrogate, Yorkshire, 150 miles north of her home, registered, oddly enough, under the surname of her husband's lover.
I don't think anyone ever knew, fully, what happened during those 11 days. Officially she was diagnosed as having had an episode of stress-related memory-loss. People have conjectured about it, movies have been made. Christie never mentioned it in her autobiography – she took those kinds of secrets with her to the grave. But I feel that, like most writers, she made use of personal experience, often using her fiction to work out things she was feeling at the time. I think a lot of her private life, however heavily disguised, found its way into the pages of her novels and her plays.
Is Christie still relevant today?
I used to think that Christie's motivation was simply concocting puzzles – the literary counterpart of a game of Clue. Then, some years ago, when I came down with a bout of double pneumonia and was bored to tears, I read everything by her I could get my hands on. I discovered that once you get past the initial urge to know who committed the crime, there's a lot lurking under the surface of her stories. Characters that appear to be very English stereotypes of their time have hidden depths that still resonate today. In her own way she was quite a perceptive social critic. But much of what she had to say about people was coded in the language of the time. It's fun to reinterpret that for modern audiences.
Address
14600 North Bluff Road
White Rock BC
V4B 3C9
(right beside Centennial Arena)