Peninsula Productions produces high quality theatre for South Surrey and White Rock.
We deliver extraordinary performances, from full scale theatrical productions and breathtaking works of musical theatre to intimate staged readings and concerts.
Since our inception in 2010 as a not-for-profit society with a mere handful of dedicated members, we have become a vibrant organization with charitable status, an active board and over one hundred volunteers.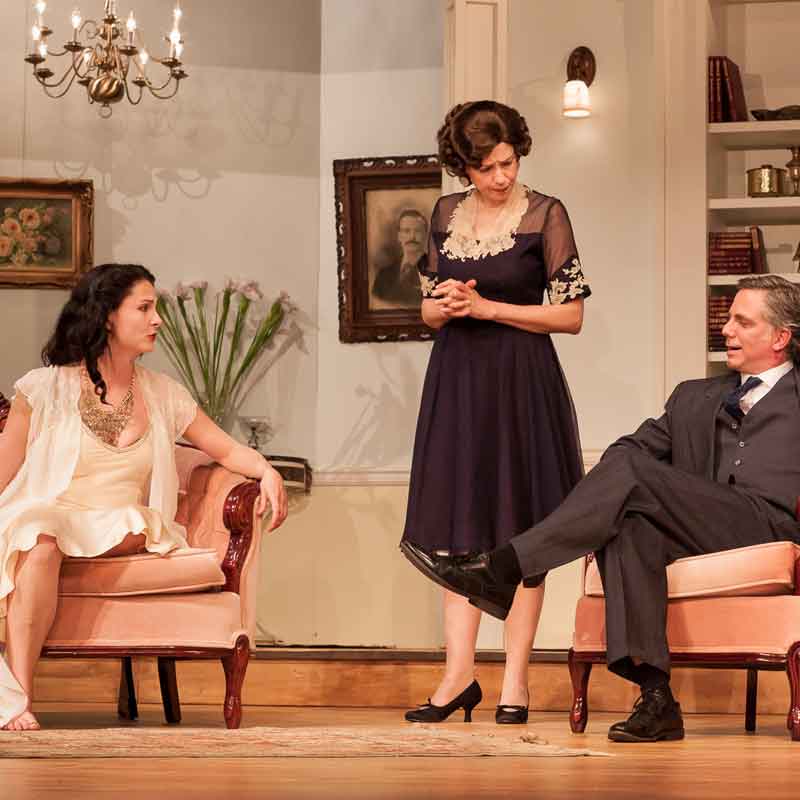 Know a young person interested in a career in theatre?
Peninsula Productions has a youth theatre company called NextGen. Each summer, NextGen forms a new cohort of full-time students between the ages of 15 and 30 to work alongside professional theatre artists, experienced directors, producers, and technicians.
NextGen participants learn the ins and outs of producing and performing theatre, culminating in a showcase of their own original work.
Peninsula Productions believes in giving back. We regularly donate tickets to those whose financial barriers may prevent them from experiencing live theatre. We also believe in sharing knowledge and expertise, which means we facilitate affordable workshops for members of the theatre community.
Janet Ellis
EXECUTIVE DIRECTOR
Janet has been in the arts/theatre field for 15 years. Her introduction to and ongoing involvement in the performing arts was initiated by her son Harrison, who is an actor. Her organizational skillset was honed working with a variety of business sectors over the past several decades, and as a member of the tour and advance team for three former Prime Ministers. She has worked for the Surrey School District for the past 11 years in the Career Department. Starting as a volunteer with Peninsula Productions in 2014, she has volunteered in every facet of the organization, and recently accepted the position of Executive Director.
She has lived with her family in South Surrey for the past 12 years, after moving from Ontario. She holds a BA from the University of Western Ontario, is a Certified Master Hypnotherapist and NLP practitioner.
Geoff Giffin
FOUNDER
Geoff was advised at a very young age to follow the arts but, being who he is, he chose science, studied physics, and went to work in various high tech fields, including NASA. Now pursuing his love for music and theatre, he finds all the technical skills he mastered during his first career to be highly relevant to promoting and producing arts events. In addition to his work for Peninsula Productions, he serves in various capacities around the area, and is dedicated to making the Semiahmoo Peninsula a destination for all kinds of performance art experience.
Keith Costelloe
PRESIDENT
Keith has spent almost all of his working life abroad. He completed a BA in Drama from Manchester University followed by a teaching qualification and finally an MA in Applied Linguistics. He has been involved in ESL teaching and management for over 30 years in many different countries: Europe, North Africa, the UK, Canada, South East Asia, and the Middle East. In his last position, he was the overall manager of a Military Academy responsible for over 120 staff and for the training of officer cadets. In this position, he developed an in-depth perspective of engaging young learners and established an effective
working relationship between the Air Force officers, civilian employees and the company he was employed by. Keith retired and relocated to White Rock in 2016. He feels that his experience of being an ex-pat in many different countries has given him a wider appreciation of different lifestyles and cultures. He has always had a love and interest for the theatre and joining Peninsula Productions as a board member has given him the opportunity to continue to expand and develop his love of theatre. In his free-time he has developed a love for writing and is completing his third book.
Grig Cook
PAST PRESIDENT
Grig was born & raised in Northern Ontario and went to Queen's University and graduated in civil engineering. His working career has been in industrial construction: pulp & paper / mining / petrochemical and in many locations in Canada & off-shore. He was President of one of BC's largest construction companies and then onto green energy, developing wind farms and hydro projects. Grig has served on boards previously and has been retired for ten years. He joined Peninsula 5 years ago and since has been responsible for most of Peninsula's sets and theatre builds (with much help from others), including Steel Magnolia's, Belfast Girls at both the Coast Capital Playhouse & The Cultch; Dixie Swim Club; Sea of Stories. Grig has been Involved with the "Space" upgrades, including the Black Box Studio since its inception and has enjoyed Peninsula Productions and is committed to working to see its continued success.
Doug Hart
TREASURER
Doug Hart, B.Com., served as a Vice-President and Officer for Industrial Alliance Pacific Life
Insurance in Vancouver for over 11 years before retirement and with General Electric in Toronto
in senior management positions for over 18 years.
On community involvement, Doug served for five years as Executive Director for the South
Surrey & White Rock Chamber of Commerce and one year as Executive Director for the Delta
Chamber of Commerce. In 2014 BC Municipal election, Doug ran for Councillor for the City of
White Rock.
In addition to being Board Chair of Brella Community Services Society (formerly Seniors Come Share Society), Mr Hart currently serves as a Director and Treasurer of Peninsula Productions Society in Surrey/White Rock and has recently retired after 6 years as a Director on the Board of the Vancouver Symphony Orchestra (VSO).
Mr. Hart received his Bachelor of Commerce degree from the University of British Columbia.
Doug lives in White Rock with his wife Paula and has two sons, one married with 2 grandsons and one granddaughter.
Sharon Johnson
SECRETARY
Born in Vancouver and raised in Richmond, Sharon attended BCIT for Business Administration before entering into the Hospitality Industry. She was a member of the opening team of the Delta Mountain Inn, Whistler and went on to further her Hotel Operations experience in Penticton, Richmond and Downtown Vancouver, including Expo86 and beyond in Management Roles. Sharon and her husband, Gordon, lived and working in 7 Different cities before settling in South Surrey in 2005 with their 2 sons, Christopher and Connor. Sharon was involved with school and sports volunteer activities.
She is an active Board Member with The Semiahmoo Community Safety Society, acting as their event planner for the annual Red Serge Fundraising Gala and actively involved in all
other SCSS Board initiatives. Sharon is excited and honoured to be sitting on the executive Board of Peninsula Productions. Her long time interest in the performing arts and the positive impact the Theatre has on the community makes serving as a Board Member both inspiring and rewarding. She looks forward to being involved with helping move Peninsula Productions on to the next level in the coming years.
Janice Cook
BOARD DIRECTOR
Janice Cook, graduated from Queens University, Kingston with a BSc , Geology and from Lakehead University with a post graduate diploma in Business Administration. She is an avid reader whose interest in theatre was intensified by Russ Waller, an amazing drama professor at Queen's. Born in Ottawa, Janice has lived with her family on the peninsula for over 25 years and now is delighted to have more time to be actively involved in the local community, especially helping to promote quality artistic performances through with Peninsula Productions Society.
Kate (Lucyk) Bowen
BOARD DIRECTOR
Kate was born and raised in Vancouver and ended up in South Surrey in 1984 with her husband John and two children Alexandra and Todd ready to embrace the community with open arms. In September of 1997 John Lucyk passed away and Kate was on her own. She was fortunate enough to remarry Bill Bowen and on they went. Kate served as the President of the CBSC Swimclub at Crescent Beach 2001-2002, helped get Beach House Theatre off the ground and sat on the board 2012-2015, both wonderful experiences. She owned and operated a store in Ocean Park (jj+whiskey clothing company) for 10 years. It was there she had the pleasure of meeting so many people with a wide variety of involvement in the community. The store is still thriving which is a testament to the community support. She is honoured to be asked to sit on the Board of Peninsula Productions. Kate was brought up with a love for the Arts at all levels and she believes in supporting it any way she can. Kate became hooked on Peninsula Productions through a friend and now hopes to help move it forward.
Nan Miller
BOARD DIRECTOR
Nan Miller has been a long-time resident of South Surrey—while raising her children, running a successful business, and now relishing her retirement. She owned and operated her Vancouver-based fashion showroom for 40 years as a wholesaler, sales agent, and international importer. During that time, Nan participated in trade shows throughout Western Canada and attended related fashion events and marketing productions. She also served as President of Western Apparel Markets and was a board
member of both the Alberta Fashion Market and the Canadian Association of Wholesale Sales.
Nan holds a BA in History and English from the University of British Columbia. A past practitioner of martial arts and an aficionado of fitness, she strives to maintain a healthy mind-body balance. She enjoys books and movies, live theatre and art galleries, as well as people, travel, and politics.
"I love the intimacy of this theatre group, and I welcome the opportunity to help raise funds, expand productions, and increase membership."
Anthony Manning
BOARD DIRECTOR
Anthony Manning believes a vibrant arts scene is essential to building community. He's enjoyed Peninsula Productions' performances since moving to White Rock in 2014. Anthony has over three decades' experience in commercial aviation, working with Air Canada Express since 2006 as a Certified Quality Auditor (CQA) and previously in a variety of roles with United Airlines in San Francisco, where he lived for 20 years. Before joining United Airlines, Anthony managed several San Francisco art house cinemas and organised several film festivals there. The child of a military family, Anthony grew up in Germany, Washington, DC and Southern California. He earned a Bachelors in journalism from Humboldt State University and a Masters in history from American Military University.
John Burch
BOARD DIRECTOR
John was raised in Winnipeg, and graduated from the University of Manitoba with a BA and BEd.  John taught high school English for 12 years, then moved on to practice as a Trustee in Bankruptcy, in Winnipeg, Saskatoon, then Langley for 22 years.
In high school he developed a  strong inclination towards live theatre. Some acting experience in high school and university and some producing/directing when he was teaching led John to become an avid theatre consumer. His particular interest has been
Shakespeare. John has been a board member with professional associations – Border Crossings magazine, Consumer Credit Counselling Services, and  provincial/national political party organizations.
Jan Chadburn
BOARD DIRECTOR
Address
14600 North Bluff Road
White Rock BC
V4B 3C9
(right beside Centennial Arena)