Peninsula Productions produces high quality theatre for South Surrey and White Rock.
We deliver extraordinary performances, from full scale theatrical productions and breathtaking works of musical theatre to intimate staged readings and concerts.
Since our inception in 2010 as a not-for-profit society with a mere handful of dedicated members, we have become a vibrant organization with charitable status, an active board and over one hundred volunteers.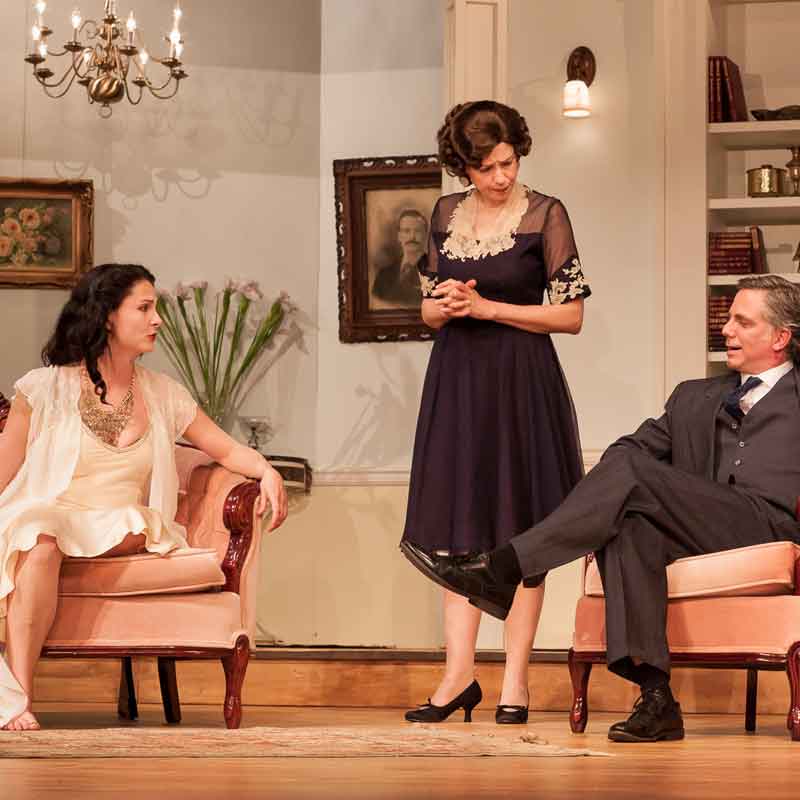 Know a young person interested in a career in theatre?
Peninsula Productions has a youth theatre company called NextGen. Each summer, NextGen forms a new cohort of full-time students between the ages of 15 and 30 to work alongside professional theatre artists, experienced directors, producers, and technicians.
NextGen participants learn the ins and outs of producing and performing theatre, culminating in a showcase of their own original work.
Peninsula Productions believes in giving back. We regularly donate tickets to those whose financial barriers may prevent them from experiencing live theatre. We also believe in sharing knowledge and expertise, which means we facilitate affordable workshops for members of the theatre community.
Janet Ellis
EXECUTIVE DIRECTOR
Janet has been in the arts/theatre field for 15 years. Her introduction to and ongoing involvement in the performing arts was initiated by her son Harrison, who is an actor. Her organizational skillset was honed working with a variety of business sectors over the past several decades, and as a member of the tour and advance team for three former Prime Ministers. She has worked for the Surrey School District for the past 11 years in the Career Department. Starting as a volunteer with Peninsula Productions in 2014, she has volunteered in every facet of the organization, and recently accepted the position of Executive Director.
She has lived with her family in South Surrey for the past 12 years, after moving from Ontario. She holds a BA from the University of Western Ontario, is a Certified Master Hypnotherapist and NLP practitioner.
Geoff Giffin
PAST PRESIDENT
Geoff was advised at a very young age to follow the arts but, being who he is, he chose science, studied physics, and went to work in various high tech fields, including NASA. Now pursuing his love for music and theatre, he finds all the technical skills he mastered during his first career to be highly relevant to promoting and producing arts events. In addition to his work for Peninsula Productions, he serves in various capacities around the area, and is dedicated to making the Semiahmoo Peninsula a destination for all kinds of performance art experience.
Grig Cook
PRESIDENT
Grig was born & raised in Northern Ontario and went to Queen's University and graduated in civil engineering. His working career has been in industrial construction: pulp & paper / mining / petrochemical and in many locations in Canada & off-shore. He was President of one of BC's largest construction companies and then onto green energy, developing wind farms and hydro projects. Grig has served on boards previously and has been retired for ten years. He joined Peninsula 5 years ago and since has been responsible for most of Peninsula's sets and theatre builds (with much help from others), including Steel Magnolia's, Belfast Girls at both the Coast Capital Playhouse & The Cultch; Dixie Swim Club; Sea of Stories. Grig has been Involved with the "Space" upgrades, including the Black Box Studio since its inception and has enjoyed Peninsula Productions and is committed to working to see its continued success.
Janice Cook
SECRETARY
Janice Cook, graduated from Queens University, Kingston with a BSc , Geology and from Lakehead University with a post graduate diploma in Business Administration. She is an avid reader whose interest in theatre was intensified by Russ Waller, an amazing drama professor at Queen's. Born in Ottawa, Janice has lived with her family on the peninsula for over 25 years and now is delighted to have more time to be actively involved in the local community, especially helping to promote quality artistic performances through with Peninsula Productions Society.
Doug Hart
TREASURER
Doug Hart is a retired business executive with over 40 years experience in domestic and international sales and marketing positions. Doug recently served as Executive Director for the South Surrey & White Rock Chamber of Commerce and as a director on various boards, including the Burns Bog Conservation Foundation (Vice-President) and Tourism White Rock (Chair), as well as running in the last Municipal election for Councillor for the City of White Rock.
Prior to being with the SSWR Chamber of Commerce, Doug served as a Vice-President and Officer for Industrial Alliance Pacific Life Insurance in Vancouver for over 11 years, where he was responsible for one of their major operating divisions.
In addition to his corporate and governance experience, Mr Hart currently serves as Director on the boards of the Vancouver Symphony Orchestra (VSO) and the Seniors Come Share Society.
Mr. Hart is a graduate of the University of British Columbia in Commerce. Doug has resided in the White Rock, South Surrey area since 1992.
Tony Roper
BOARD DIRECTOR
Anthony Roper F.I.C.S., is a Chartered Shipbroker, retired as president of Star Shipping (Canada) Ltd., and of Squamish Terminals Ltd. During his time in the Maritime Industry, he served as Chair of the Chamber of Shipping of British Columbia, Chair of the Western Marine Community, Chair of the International Maritime Centre and Board member of the British Columbia Maritime Employers Association. He is a long time-member of the Vancouver Bach Choir and has recently stepped down after five years as President of that organisation. He has also stepped down after five years as President of Fraser Valley Stage Society in Abbotsford, although still an active member, is a founding member of the group "Three Broads & A Baritone," and currently sings with "I Divi."
Keith Costelloe
BOARD DIRECTOR
Keith has spent almost all of his working life abroad. He completed a BA in Drama from Manchester University followed by a teaching qualification and finally an MA in Applied Linguistics. He has been involved in ESL teaching and management for over 30 years in many different countries: Europe, North Africa, the UK, Canada, South East Asia, and the Middle East.
In his last position, he was the overall manager of a Military Academy responsible for over 120 staff and for the training of officer cadets. In this position, he developed an in-depth perspective of engaging young learners and established an effective working relationship between the Air Force officers, civilian employees and the company he was employed by. Keith retired and relocated to White Rock in 2016. He feels that his experience of being an ex-pat in many different countries has given him a wider appreciation of different lifestyles and cultures. He has always had a love and interest for the theatre and joining Peninsula Productions as a board member has given him the opportunity to continue to expand and develop his love of theatre.
Kate (Lucyk) Bowen
BOARD DIRECTOR
Kate was born and raised in Vancouver and ended up in South Surrey in 1984 with her husband John and two children Alexandra and Todd ready to embrace the community with open arms. In September of 1997 John Lucyk passed away and Kate was on her own. She was fortunate enough to remarry Bill Bowen and on they went. Kate served as the President of the CBSC Swimclub at Crescent Beach 2001-2002, helped get Beach House Theatre off the ground and sat on the board 2012-2015, both wonderful experiences. She owned and operated a store in Ocean Park (jj+whiskey clothing company) for 10 years. It was there she had the pleasure of meeting so many people with a wide variety of involvement in the community. The store is still thriving which is a testament to the community support. She is honoured to be asked to sit on the Board of Peninsula Productions. Kate was brought up with a love for the Arts at all levels and she believes in supporting it any way she can. Kate became hooked on Peninsula Productions through a friend and now hopes to help move it forward.
Tonia Lenk
BOARD DIRECTOR
With over 30 years of hands-on experience in Marketing and Communications for print and web design, Tonia Lenk is the owner of design studio, Ideas In Bloom. As a designer and business strategist Tonia cultivates profitable brands for her clients. As Manager for the leading online fashion leader, Silver Icing, Tonia actively provides strategic business planning while positively influencing Women supporting women in the workplace.
Tonia served on the Executive Leadership team for the first ever Women & Words Writing & Publishing conference in Vancouver, showcasing women writers and publishers.
She was the Recipient of the Women of Worth Spirit Success & Soul Award in 2007.
Tonia's love of musical theatre, the performing arts, and recognizing the positive impact that performing arts have on the community makes serving as Board Member for Peninsula Productions Society an inspiring commitment. She hopes to be of service to the community and its patrons as the theatre resourcefully navigates its next season in an unprecedented time in history.
Sheila Ross
BOARD DIRECTOR
Sheila spent her early life on the North Shore and arrived in South Surrey in 1999. While on the North Shore she enjoyed participating in Drama Club and modern dancing. Sheila attended Capilano College and then Simon Fraser University, graduating with a degree in Criminology. Sheila operated a business incorporating companies while raising her four children. Sheila volunteered for many years with "Destination Imagination, an arts and science program for school age children. Sheila's appreciation for theatre and a desire to be involved has led her to our door. She has been a longstanding supporter of Peninsula Productions and we are pleased to have her join our Board.
Address
14600 North Bluff Road
White Rock BC
V4B 3C9
(right beside Centennial Arena)