Blue Prelude
Staged Performance
Meet Mickey Giordano, Vancouver private eye, c. 1949

"In the neon city of Vancouver, secrets that hide in the shadows are bread-and-butter for Mickey Giordano. The East-End prizefighter-turned-private eye knows how to play rough on behalf of a paying client. But  he's also in the corner of the victims of crime and corruption; the innocent – and not-so-innocent – he meets along the way"
White Rock director-actor-playwright Alex Browne is back – with an atmospheric, full-length 'radio noir' play, Blue Prelude, at Peninsula Productions' studio theatre in Centennial Park (14600 North Bluff Road).
The four performances are on Saturday, Sept. 30 and Sunday, Oct. 4, at 2 p.m. and 7 p.m. each day.
Written by Browne (The Dawn Patrol, White Rock Players; The Adventures of Max Bennett, Dreaming Elephant) and presented in vintage radio style, complete with commercials – and authentically dressed by co-producer and costumer Kat Siemens – it's a fond tribute to the noir esthetic of the 1940s and 1950s and the bad old days when crime and corruption were rampant in the neon-lit streets of Vancouver.
"It's really a film noir created for the ears – and the imagination – of the listener," said Browne, whose original script deliberately evokes echoes of Dashiell Hammett, Raymond Chandler and Mickey Spillane and many of the classic movie adaptations of their novels.
No stranger to local audiences, Browne was the Suspense announcer for the classic radio play Sorry Wrong Number and director of the Agatha Christie thriller The Stranger, both for Peninsula Productions in 2022.
He's also well known as a bandleader (featured at Peninsula Productions' April gala this year) and as a long-time reporter for the Peace Arch News.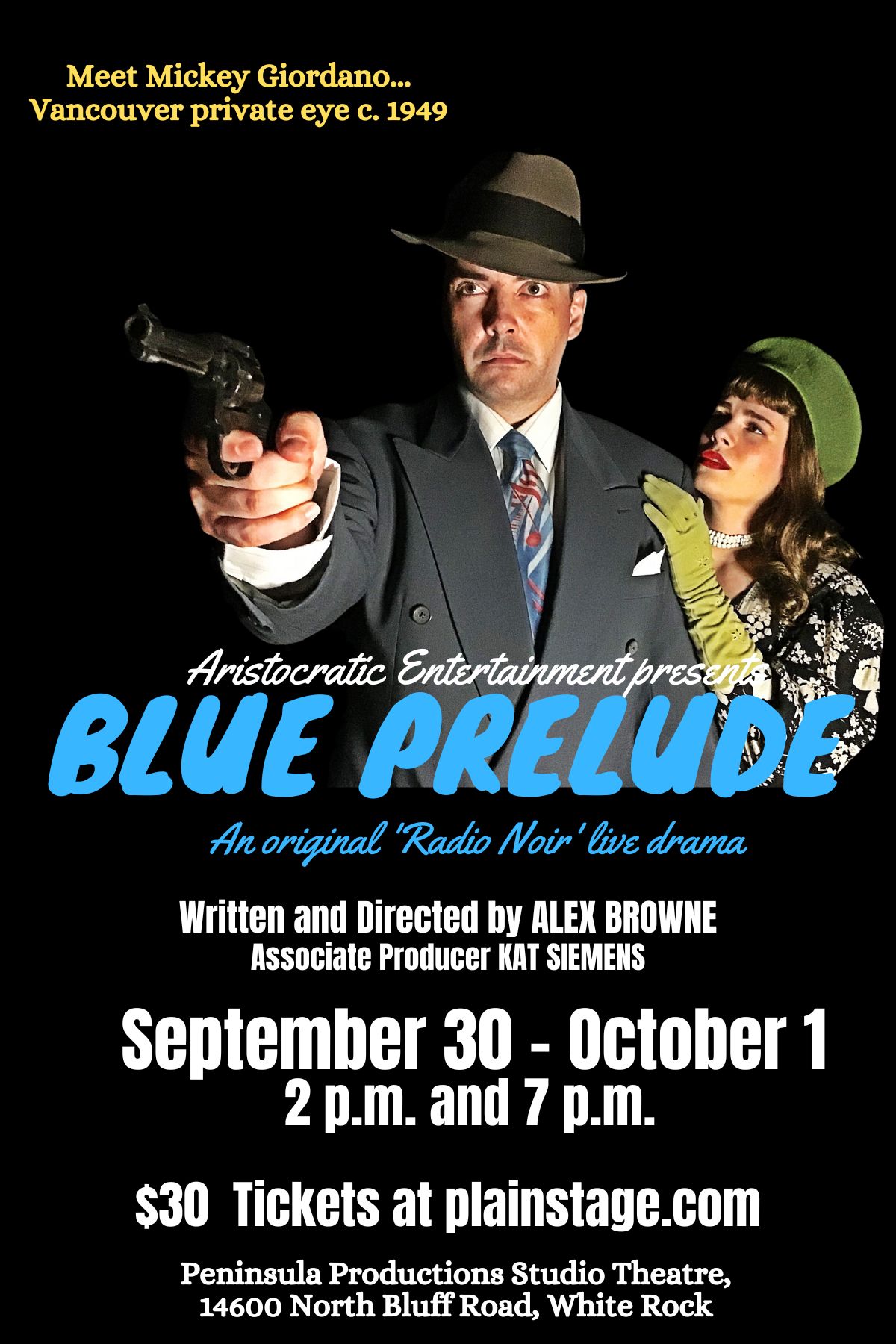 Helping bring Blue Prelude to life on stage will be a multi-talented, hand-picked team portraying the radio actors for the broadcast.
Dovreshin MacRae (Shakespeare in Love, Murder on the Orient Express, Theatre in the Country) voices tough, but tender-hearted, Mickey.
Adrian Shaffer (The Fantasticks, The Magic Flute, The Curious Incident of the Dog in the Night Time, White Rock Players) plays Lila Duprez, torch singer at The Cave, while Jacqueline Rose (A Comedy of Tenors, White Rock Players, Annie, Royal City Musical Theatre, Just Broadway, James Productions) voices the role of former showgirl Georgia Morrison.
Rounding out the cast are versatile Hunter Golden (Light Rapid Transit, Coffeehouse Theatre, A Midsummer Night's Dream, Capilano University, Blue Hour, Muskrat Pass Productions), as a multitude of characters, including sinister mining and lumber baron and art collector Hamilton Collyer) and Browne himself, as announcer, and multiple character player.
Address
14600 North Bluff Road
White Rock BC
V4B 3C9
(right beside Centennial Arena)